Questions?
Still have questions for Jon? Check out his Frequently Asked Questions responses. He has taken the time to answer many questions you may have — candidly and from the heart.
New Ascension Rites Online Course
This is an online book with videos that gives you simple new tools to ease your mind and make everything else easier in your life - from your health, relationships and work to your resources. It also gives you access to a very advanced and graceful spirit team that will be there for you whenever you need extra support.  All of this is completely compatible with your existing spiritual practice and guides or other work you are doing, and will simply give you a turbo boost.
Improve your emotional, mental and physical wellbeing. Have more energy and ease in your body and mind.  Reduce stress and enjoy more clarity and love.  Experience more success and feel more joy in everything you do.
How does it work?  Simply click on the link/button to purchase and follow the easy sign-up process, and you will have complete access to the online materials to go through at your own pace and depth.  Even the simplest parts will begin to produce the results that you are looking for.  And as a bonus, we continue to add tools as they become available.
This course is for all walks of life from using the tools for personal improvement, whether or not you have ever engaged in any other healing modalities or spiritual practices before, to professional healers,  coaches and influencers to help their clients.  The course is also set up for you to take as much from the material as you want, and over any time frame, so you are completely free and supported to engage with it in any way you like.
We went looking for the new archetypes, cosmologies and ascended masters…and they found us.  They gave us a map and a set of rites to share with you through a series of transmissions, wisdom teachings and combinations of very special and simple movements, codes and symbols.
These rites allow us to move beyond the beyond and pull the present in that direction.  This is farther into the future and dimensions than we have ever gone before so that the pull to a new and greater destiny is as strong as it can possibly be.
And in a very efficient and powerful way it helps make vast improvements in every area of your life that you may be struggling with or facing challenges in - such as relationships, stress, anxiety, resources, energy levels, work and wellness.  See the preview below for and example of how we apply the combination codes of our simple movements to these and other areas of life and enhancing the work you may be doing for others as a healer. teacher, mother, father, sibling, or friend.
It's a great honor for us to present you with these New Ascension Rites.
As you practice them and make them your own along with the support and wisdom of our team of masters from the beyond-beyond we believe that you will experience the greatest power and grace for healing, manifesting and strengthening yourself and your vision and the collective healing and vision of the world.
We welcome you with all our heart and with the deepest gratitude for your vision and courage to receive and share these gifts with us and with all that is and has yet to be.
(And please be aware that the material in this course doesn't expand on the teachings of the Q'ero or Jon's previous book and videos - it is truly a leap into whole new territory, while we also continue to do our work as graduates of the Four Winds separate from this material.  As is true for shamanism, however, it is possible to bring the two together along with other modalities in our session work)
Testimonials for the Course
First of all, I would like to thank Olivia and Jon for their generosity in sharing the insights in this new online course.
I have started to study it and I would like to share with you my experiences so far with it.
The course has lots of material that I still need to explore. I am still in the first part, which consists of movements, codified with numbers and directions, as "medicine" to assist with typical physical and spiritual issues.
I had been experiencing extreme fatigue and lethargy, lack of interest in my job, where people in my team all seemed sad and confronted with one another. Low productivity, heaviness, loss of power had invaded me. I was spiralling down.
As soon as I started practicing the movements specially indicated for the conditions I stated before, I noted my energy shifting, starting to feel more physical energy, at first temporarily.
Events at work one day really threw me down. The next day I was lying down unable to move. In  this position I started to make the movements indicated for lethargy and help with work as well as other movements (all the ailments seemed to apply to me!).
Note that the movements only require you move your arms and hands, nothing physically strenuous. After some time, some minutes perhaps,  it' s as if I had a download, all the situation became very clear to me, and something commanded me to get up and write an email to a person at work, reaching out. I did that. From then on, my energy just spiralled up. The next day I went for a very long walk: 5 hours and 40 minutes walking over 10 miles along rivers and through forests! After that I was tired but recovered over night and my energy shifted completely. Recall I was severely fatigued for months before. The next day I had a meeting with the person I reached out to by email and since then (just only four days ago) it is as if the dynamics at work has completely changed, with no more antagonism, more productivity, kindness and camaraderie. A very different game now. My energy is steadily up, my productivity at work has increased exponentially and best of all is the picture I had today of the team I work with, united, cooperating and smiling. Awesome! It's not just me who feels better and has overall improved, it's all the people surrounding me too!
I am not a pro spiritualist or anything near. I am a plain person, with an awareness that not all what "is" is visible. And I was able to experience, through just the parts of the course I have done, this amazing healing, fast, effective and affecting not just me but my surroundings. How can I heal if my surroundings don't heal as well? It makes perfect sense.
I will continue the gentle practices so effective and supportive, and so easy to follow too. Open you mind, connect with your feelings, do the practices and healing will come your way. I am starting now to incorporate also physical healing and I am already feeling the changes.
The movements are like prayers, effective prayers which are answered immediately.
I am looking forward to the extra material coming. I have a lot still to explore.
This works, it's pragmatic, it's easy, if I can do it so can anyone.
- S, London
I have been working with Jon for a few years now, I discovered Jon via his YouTube channel, and had an instant connection and resonance to his work, energy and frequency. This was during, I can honestly say the hardest and darkest year of my life. I have studied various modalities over the past 15 years, and am a competent healer in my own right, however my life had come to a standoff and I really needed a new form of guidance.
It has taken some time for me to formulate this letter of reference, as it is not a simple exercise to distill Jon's contribution, gift or work into a few lines. Jon's work, with all genius, is incredibly simple yet ridiculously profound, transformative and impactful. I do not think as this life form, that I will ever truly be able to qualify or quantify what his work/gifts ultimately do, I can however testify to the fact that it works, and I know in the deepest part of myself, that if I had not discovered Jon, nor had the privilege to work with him, my evolution and well being would still be very challenging.
I was very excited and fascinated at the prospect of the New Ascension Rites Course, that he and Olivia were going to launch, I could not 'track' the direction and I honestly had no idea what it could be about. I was delighted when it launched, and I literally powered through the entire course in a matter of days, drinking in the knowledge, incredible tools, wisdom and layers of insight that unfolded in front of me.
It has been almost three weeks since I bought the course and I can whole heartedly say, that it has been life changing. I have mastered the movements, and start my day, every morning doing the sequence of movements x 3 facing the rising Sun. I then either listen to the 'Transmissions and Initiation Rites' video as a mediation, or say all of the affirmations regarding the Tribes and the four directions, also x3 each.
I run my own business in addition to working/consulting in multiple industries, all very stressful and demanding. I have however, found that since accessing these new dimensions, and tools of the Beyond-Beyond, calling up this support, and embodying the movements and affirmations/intentions, that I am much more peaceful.
When something does come up that is stressful and beyond my control, I will intuitively do the movements and say whatever affirmations best supports the challenge. I am also accessing very different and higher frequency beings, and experiences when I do healings and meditate. This knowledge has been a HUGE leap forward, in my growth and evolution. I have also found, that I am far less concerned and worried about the day to day challenges of life and business. I feel much more supported, and connected to the Universal Heart of existence, and no longer get pulled into the trivial, tragic, traumatic, survival and fear, that so much of this world feeds off and impacts us from the group conscious.
I can highly recommend Jon in his personal capacity in all forms of his work, and both Jon and Olivia, regarding being the custodians of the transmissions the New Ascension Rites to Earth, and the life changing tools and knowledge, that I am only just starting to discover and benefit from.
Sincerely,
Fiona
Preview a Few of the Course Modules
Click the button to the right to get a preview of just some of the material presented in the New Ascension Rites Online Course.
Gain Unlimited Access to the Materials by clicking the Purchase Button Below
Once you sign up, you'll receive an email with links and gain immediate and permanent access to this course via phone, tablet, or desktop. You can begin at any time and move through the course at your own pace, repeating any modules as many times and in any order as you wish.
Card Deck - 64 Symbols of the New Ascension Rites
The deck for the 64 symbols of the New Ascension Rites Online Course is now available for purchase. Use them for readings, divination, contemplation and energetic download of the insights, gifts, strengths and practices that they represent. Here is the link: https://www.makeplayingcards.com/sell/marketplace/symbols-of-the-new-ascension-rites.html .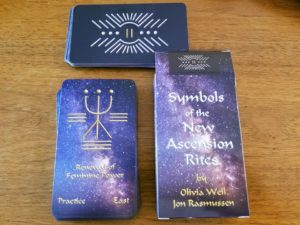 To make donations for Jon's work using PayPal, please click on the 'Donate' botton below.
Download Shaman Jon's Albums from iTunes:
Or in MP3 format from CDBaby
And order his book from Amazon
He also recommends other books and products: